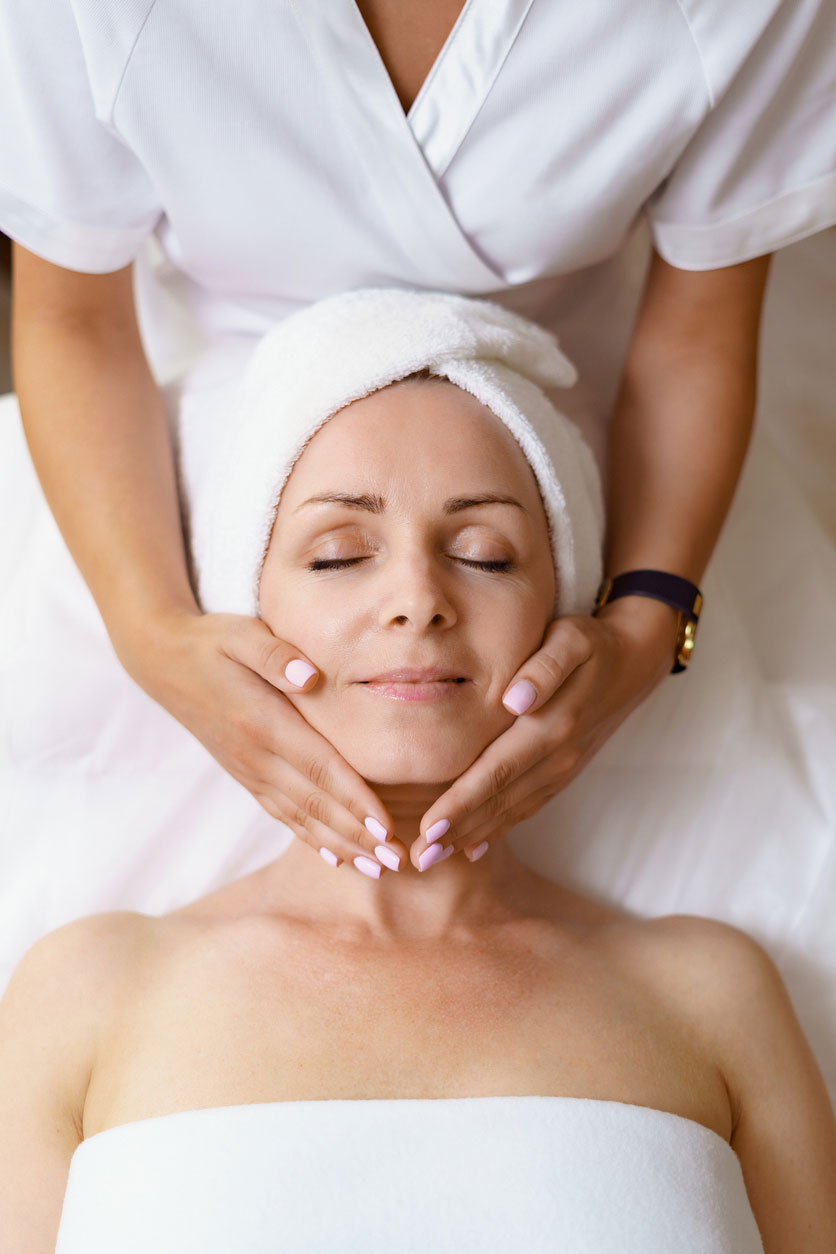 Facials
---
Signature Facial
A luxurious facial customized to your skin type. Includes, cleanse, exfoliation, enzyme or peel, extractions, massage and mask! You will leave relaxed and glowing!
Add on: Hot Stones, LED Light Therapy
60 min $125
75 min with LED light $150
Hot Stone Facial 60 minutes $150
Fire and Ice
A one hour facial treatment featuring our NOON AESTHETICS Triple MCH machine. This relaxing facial begins with a cleanse, exfoliation and NOON peel followed by a session with the Triple MCH device. This device combines skin rejuvenation with electrical energy. It begins with heat and electro pulse that feels like a warm massage making the cell membrane more permeable for better penetration. Next, a cryotherapy procedure uses cooling to contract blood cells in order to maximize the amount of substance absorbed into the skin. An ampoule of your choice will be sealed into your skin. Relax under the LED lights for 10 minutes while we massage your arms and hands and we end with a mask and neck/shoulder massage. Aside from firming, hydrating, rejuvenating, and brightening the skin, it also treats skin inflammations, such as acne, rosacea, and seborrhea.
75 minutes- $200
ZO Ultimate Firming/ Ultimate Brightening Facial
Enjoy our Signature Facial with a ZO Serum Accelerated! Firming Serum Accelerated supercharges the skin and works to improve the appearance of sagging skin and laxity.
Brightalive promotes skin tone evening and skin brightening. Calms, soothes and intensely hydrates the skin post treatment for a luminous complexion!
You even get to take some serum home!
60 minutes- $200
LED Light Therapy
Enhance any treatment with LED light therapy.
The red LED light is used to improve the appearance of skin firmness and resilience. It also helps reduce the appearance of fine lines and wrinkles, hyperpigmentation, and other signs of aging.
Blue LED light is most often used to treat acne. It may do this by reducing activity in the sebaceous glands, so they produce less of the oil that can plug the hair follicles, leading to acne. Blue light may also kill acne-causing bacteria.
15 minutes- $25